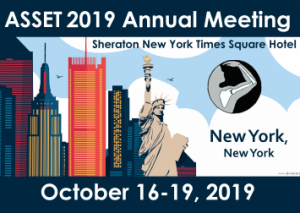 27th Annual ASSET Meeting
The Sheraton Times Square
New York, NY
October 16-19, 2019
This meeting begins on Wednesday evening, October 16th, with an invitation to join the American Shoulder and Elbow Surgeons (ASES) President's Reception.  The scientific portion of the meeting begins on Thursday morning, October 17th. This meeting is held at the same time as the ASES Closed Meeting and opportunities exist for ASSET participants to attend specific ASES scientific sessions.
---
Schedule (Please note that all times are subject to change):
2019 ASSET Annual Conference Schedule of Talks (Handouts are on the Member Materials page of the website)
Wednesday, October 16, 2019
ASES President's Welcome Reception - 6:30 PM - 8:30 PM (Sheraton New York Times Square Hotel)
Thursday, October 17, 2019
Registration opens at 6:30 AM
Breakfast from 6:45 – 7:45 AM
ASSET Scientific Program - 7:45 AM – 4:00 PM
ASES JP Morgan Library Cocktail Party with Whisky & Bourbon Sampling- 6:30 – 8:00 PM (Optional Event). This event has a "Dressy Casual" dress code and has an additional $175.00 registration fee for anyone who chooses to attend. For more information on this event please click here and to register click here.
Friday, October 18, 2019
Breakfast from 7:00 – 8:00 AM
ASSET Scientific Program - 8:00 AM – 3:00 PM
ASSET Founders Reception (Appetizers/drinks provided) – 6:00 - 8:00 PM (Sheraton New York Times Square Hotel)
Saturday, October 19, 2019
Breakfast from 7:00 – 8:00 AM
ASSET Scientific Program - 8:00 AM – 11:00 AM
---
Contact Hours: Continuing education contact hours will be determined at a later date. No state specific approvals will be submitted before the meeting. A course description, objectives, and detailed schedule will be provided as a part of the conference handouts which can be submitted on an individual basis.
---
Accommodations: There are a limited number of rooms reserved for conference attendees at the Sheraton New York Times Square Hotel. The ASSET group rate is $309 per night. To make a reservation, use the following reservation link: https://book.passkey.com/go/ASSET2019
Reservations can also be made over the phone by calling (212) 581-1000, and mention "ASSET room block."
The deadline to make a reservation is Wednesday, September 25, 2019 (subject to availability).
---
Registration:  Active/International Members: $475.00.
Non-Members: $675.00.
**A $50.00 late fee will be applied for any registrations after September 9, 2019**
Cancellation Policy: If for any reason you must cancel your registration, your request must be received on or before October 1, 2019 to receive a full refund. Reservations cancelled after October 1, 2019 and before the start of the meeting (October 16) will receive a 50% refund.