Meeting Schedule:
Thursday, Oct 6 - 6:30 PM- 8:30 PM- ASES Cocktail Reception (optional)
Friday, Oct 7 - 6:25 AM - 3:45 PM - ASSET Annual Meeting
Friday, Oct 7 - 4:00 PM - 6:00 PM - Founders Reception
Saturday, Oct 8 - 6:25 AM -  2:00 PM - ASSET Annual Meeting
Meeting agenda can be found here. 
ASES President's Reception on Thursday, Oct 6:
ASSET Annual Meeting Attendees are invited to attend the American Shoulder and Elbow Surgeons (ASES) President's Reception on the evening prior to the start of the meeting on Thursday, October 6 from 6:30 to 8:30 pm. Cocktail Attire is strongly recommended.  
Hotel Accommodations:
There are a limited number of rooms reserved for conference attendees at the Atlanta Marriott Marquis, 265 Peach Tree Center Ave NE, Atlanta GA.
The ASSET group rate is $149 a night.
HOTEL UPDATE: The ASSET hotel block is sold out on the night of Oct 6th and Oct 7th.  ASES has agreed to let us use their hotel block to book discounted rooms. Their rate is $219 per night + tax.  You must book by Sept 14 to receive the discounted rate.  https://book.passkey.com/event/50276800/owner/321/home
Contact Hours: The Annual Meeting is approved for 10.83 CEU's by APTA Georgia.

No state specific approvals will be submitted before the meeting. A course description, objectives, and detailed schedule will be provided as a part of the conference handouts which can be submitted on an individual basis.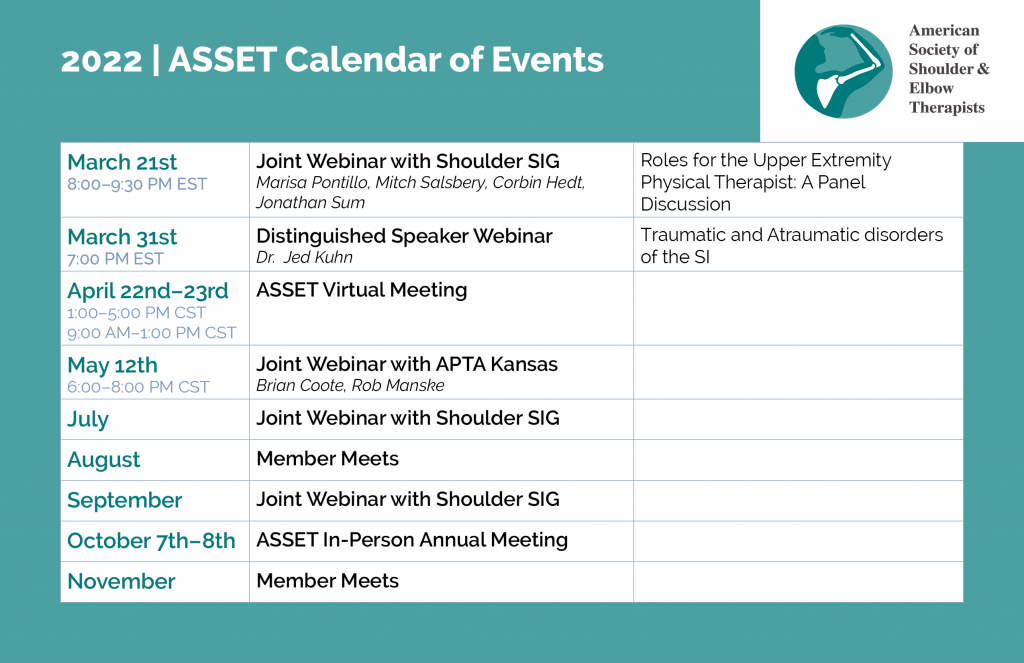 Past Meetings
29th Annual Meeting - Virtual Meeting - April 22-23, 2022
28th Annual Meeting - Virtual Meeting - October 2-3, 2020
27th Annual Meeting - New York, NY - October 16-19, 2019
6th International Congress of Shoulder and Elbow Therapists - Buenos Aires, Argentina -September 17-20, 2019
CEU Meeting - Wooster, OH - June 1, 2019
CEU Meeting - Nashville, TN - March 30-31, 2019
26th Annual Meeting - Chicago, IL - October 11-14, 2018
CEU Meeting - Durham, NC - April 14-15, 2018
25th Annual Meeting - New Orleans, LA - October 11-14, 2017
CEU Meeting - Durham, NC - May 6-7, 2017
24th Annual Meeting - Boston, MA - October 6-9, 2016
CEU Meeting - Chicago, IL September 17, 2016
23rd Annual Meeting - Ashville, NC - October 8-11, 2015
CEU Meeting - Seattle, WA - October 18, 2014
22nd Annual Meeting - Pinehurst, NC - October 9-12, 2014
4th International Congress of Shoulder and Elbow Therapists - Japan - 2013
21st Annual Meeting - Las Vegas, NV - October 12-15, 2013
CEU Meeting - Atlanta, GA - August 17, 2013
20th Annual Meeting - Sea Island, GA - October 12-14, 2012
CEU Meeting - Durham, NC - August 18, 2012
19th Annual Meeting - White Sulfur Springs, WV - October 12-15, 2011
CEU Meeting - Greenville, SC - August 27-28, 2011
3rd International Congress of Shoulder and Elbow Therapists - Edinburgh, Scotland - September 5-8, 2010
CEU Meeting - Boston, MA - May 15, 2010
18th Annual Meeting - New York, NY - October 25-27, 2009
CEU Meeting - Boston, MA - May 9, 2009
17th Annual Meeting - Santa Barbara, CA - September 3-6, 2008
CEU Course - Jacksonville, FL - June 7, 2008
2nd International Congress of Shoulder and Elbow Therapists - Brazil - 2007
16th Annual Meeting - Chicago, IL - September 14-16, 2006
1st International Congress of Shoulder and Elbow Therapists - Washington, DC - 2004